Stand with Ukraine. Save peace in the world!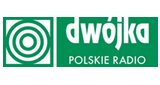 Polskie Radio - Dwójka
Polskie Radio Dwójka zaprasza do świadomego i czynnego uczestnictwa w kulturze, zachęca do refleksji i odkrywania na nowo fundamentalnych wartości humanistycznych. Posługując się różnorodnymi środkami wyrazu, łączy tradycję i nowocze
Show more
Polskie Radio - Dwójka reviews
Joanna Waliszewska

29.10.2023

jedyne które lubię!

Wojciech Boniecki

06.01.2023

co to za muzyka? niby jazowa ale bez sensu. promujcie lepiej muzykę poważną a nie badziewie. Skończcie z tą muzyką spod kaplic zrobiliscie radio katolickie bis. zobaczcie jak nisko leżycie.

Xiążę Karkonoski

25.09.2022

Bosacka okazała się ignorantką, kobita nie ma pojęcia skąd się wzięła nazwa "ruskie" od pierogów i Cha cha cha. Poza tym wytłumaczcie tej Ukraince obok dlaczego w Polsce się mówi NA Ukrainie, NA Litwie, NA Węgrzech itp. miast W Ukrainie 😂😂😂

Martyna Karolewska

24.07.2022

Bardzo lubię "2" i słucham jej od dawna, najczęściej w pracy. Czegoś jednak w niej brakuje. Czy naprawdę nie można nadawać więcej muzyki poza muzyką klasyczną, "poważną"? Jest tyle wspaniałej muzyki filmowej, klasycznego rocka, bluesa i oczywiście jazzu. Zakradła się monotematyczność muzyczna. Dwa dni temu zmarł pan Olgierd Pisarenko, wiemy kim był. Ale czy nadawanie przez trzy godziny muzyki funeralnej to nie męczące nawet dla słuchacza tej szanowanej stacji. Wydaje mi się, że przydałoby się trochę różnorodności muzycznej, reszta jak i poziom znakomity.

To smutne co zrobila wladza fundamentalisci z radiem o szerokich horyzontach wrazliwosci tolerancji na sztuke. teraz to sztuka sakralna i katecheza manipulowanie umyslami...Radio maryja bis :(

ja się zgadzam z poniższą opinią na 100 %.

Od kilkudziesięciu lat jestem Wam wierny. Błagam !!! - wróćcie do klasyki jazzu, klasyki muzyki przynajmniej wieczorowa i nocna porą. Eksperymenty nowego jazzu trudno zakwalifikować do muzyki - przepraszam jeżeli jestem jedyny takiego zdania

Anna Bronowicka

16.10.2021

Super radio.Dziękuję za dzisiejszy dzień szczególnie .

coś w tym jest

?????? ??????? ??

15.04.2021

Polskie Radio - Dwójka, to jedyna stacja radiowa na najwyższym poziomie. Każdy rozpoczynający się dzień, towarzyszy mi w tle, dostarczając subtelnego relaksu w ciągu dnia. Brak reklam, czyni stację o wyjątkowym, niepowtarzalnym klimacie. Pozdrawiam!
Information about the radio
Program 2 Polskiego Radia to antena pod każdym względem wyjątkowa i niepowtarzalna: muzyka klasyczna, folk, jazz, literatura piękna, publicystyka kulturalna – codziennie przez dwadzieścia cztery godziny.

W polskim eterze nie ma stacji, którą można by pomylić z Programem 2.
Radio contacts