Stand with Ukraine. Save peace in the world!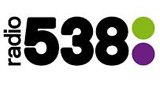 Radio 538
Radio 538. Wij slepen je de dag door, elke dag weer! Met dikke hits en een hoop lol.
Show more
Radio 538 reviews
I💘

Valery Мирошников

08.08.2021

Очень хорошее радио! Сам вещаю на ФМ 95.1 у себя в посёлке, также назвал свою станцию Radio 538, и прямо с ихними джинглами, подложками и прочим музыкальном оформлением, вещаю у себя в посёлке на FM волнах! У них даже на официальном сайте есть видео обо мне в раздели Big Igmar) 🔥😋😜

Worst radio

Daniel Fábregas

17.02.2021

No entiendo nada !!!! Pero la música muy buena jajajaja. Saludos de Daniel desde la Argentina.

😍😍😍

Gabriel Martin

05.04.2020

Very good radio

super 538 FM radio …. goede kwaliteit... super goede muziek... toppie.. !!! ga zo door..

Ferdinand Oliveira

27.08.2019

BRAZIL ouve 538 FM,very good!!!!!!

Muito boa radio!! Parabéns!!

Leszek Domagała

21.07.2019

538? The best radio in Europe!
Information about the radio
Radio 538 is een uitzending radiostation in Amsterdam, Nederland, het verstrekken van Adult Contemporary Pop, Rock en R & B hits muziek. Beweeg samen met 538 op het ritme van de dag. Luisteren naar de hits van nu, voer met ons het gesprek van de dag en maak van die gewone momenten wow-momenten.
Radio contacts