Stand with Ukraine. Save peace in the world!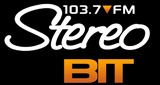 StereoBIT
Ciudad Valles, 103.7 kHz AM
Emisora que transmite desde Ciudad Valles, en la región de San Luis Potosí, con programas de música y entretenimiento durante las 24 horas del día para complacer a todo tipo de oyentes.
StereoBIT reviews
los felicito por buena programacion...saludos a la gente de tamazunchale los escuchamos por internet ponganme una cancion del recuerdo se llama "que bonito" con los azucarados de cd mante tamps xfa

Faustino Medina

25.09.2022

Muy buena senal aca en mty n l

Maribel Guerrero Monrroy

30.04.2021

Buendia una felicitacion para el niño David Rdz Gro cumple 8 añitos le dicen tito y unsaludo para su hermanita Becky

Mario Manuel Tavitas Rodriguez

23.04.2021

No lees estos comentarios?

Hola buen día Saludos para doña rosana de la 20 de Noviembre Que esta haciendo bocoles para su yerno checo podrian ponerle la del kerreque

NATALIA CAROLINA LOPEZ TORRES

14.09.2020

FELIZ DIA A TODOS LOS CONDUCTORES DE ESTA EXCELENTE RADIODIFUSORA!!

BUENOS DÍAS ME PODRÍAN AYUDAR, NECESITO SABER CUANDO ENTREGARA DOCUMENTACIÓN LA SECUNDARIA 6 A LOS ALUMNOS EGRESADOS? SE REQUIEREN PARA INGRESAR A OTRA INSTITUCIÓN DE NIVEL MEDIO. SALUDOS.

Sared Gallegos

22.06.2020

Hola buena tarde!, Solo para decir, nosé reportar que el Registro Civil 1 dio un num de tel para citas y no lo responden... Todo el día desde las 8 y nada ... Gracias

buenas tardes. me podrias dar la ubicacion de la estacion para enviar una despensa para la sra, que esta solicitando y el wat de la estacion, porfa. por esta misma via..

Huapanguito Huasteco

04.03.2020

BUEN DÍA, PODRIA MANDAR UNAS FELICITACIONE PARA MI PRINCESA MARTHA VALERIA QUE ESTA CUMPLIENDO 3 AÑITOS QUE DIOS NOS LA SIGA BENDICIENDO, SALUDOS Y BENDICIONES PARA USTEDS Y SU EXCELENTE PROGRAMA, SALUDOS DESDE SAN ANTONIO, S.L.P.