Stand with Ukraine. Save peace in the world!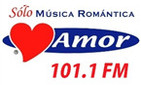 La Nueva Amor
Hoy por hoy, Amor 100.1 FM, es sin duda la mejor estación radiofónica en su perfil en el sureste del país, con programación musical completamente romántica, baladas en español con los más reconocidos interpretes nacionales e internacionales, con una gran audiencia y muy escuchado por su variedad musical, la cual es escuchada tanto por jóvenes como a adultos que van de los 20 a los 60 años.
La Nueva Amor reviews
Excelente estación de radio, los escucho desde que era adolescente ♥️ Saludos a todos

Excellent medio informativo!

Rubixita Cardeñita

06.05.2020

Me encanta su programación, la escucho todos los días de 10 am. con Arelly Alcocer, que es una chica preciosa en todos los sentidos (no la conozco en persona) hasta las 10 am.

Pexoxa Jimenex Benitex

02.04.2020

solo quiero saber que paso con ALEJANDRO VILLALBASO???? hoy al estar camino al trabajo no lo escuche en la estacion.

Jorge Alberto Medina Moreno

25.07.2017

EXCELENTE PROGRAMACION Y MEJOR EL CONDUCTOR ADONAY HDEZ. SALUDOS...
Radio contacts
https://www.instagram.com/amorfmmerida/