Stand with Ukraine. Save peace in the world!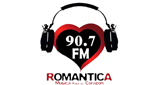 Romántica 90.7 FM Tehuacán
Romántica 90.7 Fm Tehuacan escúchanos las 24 del dia "música romántica "música para tu corazón"
TOP songs on Romántica 90.7 FM Tehuacán
Romántica 90.7 FM Tehuacán reviews
Quiero enviar saludos a Julien por su cumpleaños

Gustavo Balderas Jimenez

10.06.2023

Hola buena tarde me gusta su concepto mando mensaje de cdmx y quiero pedir un saludo para mi primo maryin balderas y su esposa paquita de parte de gustavo y un saludo a uds.

Celia Beristain

21.01.2023

excelente programa, Shakira una gran mujer , pongan la nueva canción completa por favor

Daniela Velázquez

28.12.2021

Hola buenas noches, me podría poner una canción de BTS ( Permission to dance u ON) Gracias!

Crystyna Ocana

13.11.2021

Gracias Richard

Hola buenas tardes me podrías complacer con la canción de vámonos a marte Kevin klear

Muy buena estación la mejor...!!! Podrías felicitar a mi hermano Hipólito Tecozautla Mtz. Hoy en su cumpleaños en la colonia Luis Donaldo

Paulina Martínez

15.12.2020

Cuál es su número para Whatsapp

EXCELENTE PROGRAMA GUSTAVO SUAREZ, ES UNA DELICIA ESCUCHAR ESTA MUSICA. SALUDOS.

MANUEL ARRIETA FUENTECILLA

25.09.2020

buenas noches, es un gusto volver a escuchar la romantica hace algunos ayeres radicamaos en la bella ciudad de Tehuacan hoy lo escuchamos online en tzinacapan Cuetzalan Puebla, saludos FAMILIA ARRIETA MEJIA.