Stand with Ukraine. Save peace in the world!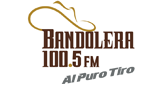 Bandolera
Tula de Allende, 100.5 MHz FM
El públlico de Chilpancingo cuenta con esta radio para estar informados y entretenidos las 24 horas, ofrece musicales en diferentes ritmos como románticas del recuerdo, shows en vivo, noticias relevantes.
Bandolera reviews
Saludos para el bebote de parte de su novia

Aracely Sanchez

13.10.2022

SALUDOS A ESE CHIQUITO BEBE DUEÑO DE MIS PENSAMIENTOS DE LA CHELY DE LA CURVA, Y LE DEDICO LA DE TODO MI AMOR LO TIENES TU MI VIEN.

WEN Zuñiga alpizar

18.07.2022

Hola buenas tardes anita un saludo para mi sobrino santiago Bladimir q hoy cumple 10 años, me puedes poner la canción de mi pedacito de cielo de banda legal, Q dios lo bendiga siempre y q nunca olvide q lo quiero mucho de parte de su tía Wendy. Te escuchamos en tlamaco

Victormanuel Barerra Caballero

08.06.2022

Un buen saludo y un fuerte abrazo desde saltillo coahuila y un saludo ala familia barrera de teocalco hidalgo de victo los ama y los kiere

Olivia Ballesteros

11.01.2022

Por qué está reportera, solo ataca al presidente🙄?

Excelente mi estacion la bandolera 100.5 de tula saludos desde toronto canada a mi esposa miriam agustin y a mis hijos en la colonia san jose

Gracias bandolera que sigua

Juan De Dios Ucan Ake

13.07.2021

ecxelente Estación de radio felicidades te escuchamos de Municipio de Felipe Carrillo Puerto Quintana Roo México muy buena música se escucha

Hola yo soy un compañero de Emily y voy con ella ala escuela y te mando saludos soy yael

renata martinez mayor

16.04.2021

me encanta la bandolera la escuchaba en mi radio y como se descompuso lo busque en mi laptop, y le doy cinco estrellas es mi estacion de radio favorita...
Radio contacts
https://www.instagram.com/bandolera1005fm/