Stand with Ukraine. Save peace in the world!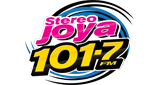 Stereo Joya
Tuxtla Gutiérrez, 101.7 MHz FM
Complied with the type of songs and passionate presentation that a modern and popular online radio should be Stereo Joya 101.7 is your daily music partner that loves promoting their programs to you their desired listeners through their various kinds of regular and irregular online radio programs.
Stereo Joya reviews
buenas tardes podrian proporcionar el num de whatsapp para ponerme en contacto gracias

Gracias por el programa sobre estrés, saludos Dr.Chanona.

buenas tardes, vecinos de la 2a poniente norte entre 9a y 7a norte del barrio Colón de Tuxtla Gtz., no tenemos agua potable desde hace más de 10 días, no sabemos la razón, pero nos urge el agua, estamos comprando agua en pipa y cada vez la dan más cara y sucia, por favor pasen este reporte a SMAPA, gracias. Necesitamos que nos den agua potable.

Nestor Quevedo Colon

12.07.2018

Excelente programa, felicidades!!!

Escucho la mejor música y saludos hasta Seattle wa.

Excelente la emisora. Sólo tengo una duda, ¿no regalaran boletos para ver a Mario Aguilar?