Stand with Ukraine. Save peace in the world!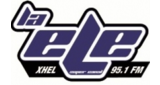 La Ele
La Ele - XHEL. El Super Canal Fresnillo. Emisora que transmite desde Zacatecas y brinda programas de alta calidad, notas de actualidad, noticieros con objetividad, los shows musicales de éxitos inolvidables de los 80´s y 90´s y más.
Show more
La Ele reviews
Blank Moravila

11.08.2023

El Mejor Arquitecto de Familias, honesto, certero, realista, siempre tiene la palabra precisa en el momento preciso, felicidades <3 <3 <3

ESCUCHO LA L Y LA IH DESDE NIÑA Y AHORA QUE ESTOY LEJOS DE MI BELLO ESTADO ZACATECAS, LA S ESCUCHO POR INTERNET, SALUDOS A LA FAMILIA TORRES. GRACIAS A ESTAS DOS ESTACIONES HERMANAS POR REGALARME MOMENTOS FELIES EN MI INFANCIA.

Marcelino Rojas

23.03.2023

Las audiencias son limitadas y a puerta cerrada el gobernador nos ha Sido ciego y sordo

Martin Hernandez

08.10.2022

Buena programación me recuerda cuando estaba en la secundaria esas tardiadas estudiantil en la IH

Mirela Mueller

04.05.2022

Cambiaron la progración? Me gusta mas la programación clásica. La L se caracteriza por transmitir clásicos de la música rock

Diego velazquez ordaz

03.05.2022

Cuál es el número de watsap de la ele

Clásicas de 70s y 80s plissss

Este cambio de programación es fresco y más alegre. felicidades.

Yo soy nieto del compadre pepe, michelle Martell si necesitan un locutor o un actor aquí andamos, aguelo aunque no te conocí eres grande un abrazo hasta el cielo, ojala te hubiera conocido.

MI MAS SENTIDO PESAME A LAS FAMILIAS TORRES POR TAN GRANDE PERDIDA. DIOS LES DE CONSUELO Y PRONTA RESIGNACION. VA MI ORACION PORQUE ASI SEA
Information about the radio
XHEL-FM is a radio station on 95.1 FM in Fresnillo, Zacatecas, known as Súper Canal.

XEEL-AM 610 received its concession on January 31, 1959. It was owned by José Antonio Casas Torres and broadcast with 1,000 watts day and 150 watts night. By the late 1960s, control was in the hands of José Antonio Casas García. On July 26, 2003, Casas García died; Juana Gallegos Rojas became the concessionaire. She has also since died.

XEEL was cleared to move to FM in February 2011, with its tower on Cerro Xoconostle. In 2015, XHEL-FM was approved to increase power to 33.22 kW.
Radio contacts