Stand with Ukraine. Save peace in the world!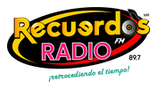 Recuerdos Radio
Ciudad Juárez, 89.7 MHz FM
Concepto radiofónico que ofrece una combinación de los mejores géneros musicales de las décadas más prodigiosas los 80's y 90's , además incluimos algo de los 2000.
Show more
Recuerdos Radio reviews
Fernando Larios

28.02.2023

Cómo se llama ó llamaba una estación de radio de Ciudad Juárez que ponía música en inglés en los años 70's???

Excelente no cambien para mi es una de las mejores saludos desde Monterrey Nuevo León.

excelente musica para recordar.

Dulce Maria Lo-Vi

05.05.2021

Excelente estación y programación

excelente estación!!!! de mis favoritas...pero hoy tiene la misma canción horas jajajajaj se repite y se repite

Alejandro Mora

25.11.2020

Muy buena estación .siempre la pongo hasta para dormir! Qué siempre siga asi.saludos desde Nuevo León

Esta señal no es de la extinta Recuerdos Radio FM, esta señal es de otra emisora la cual usa un servidor de transmision usado en su moento por recuerdos radio, no se dejen sorprender.

iheard radio 80s y 90s ¡¡¡¡recomiendo¡¡¡

QUE PENA QUE CAMBIARON LA MÚSICA QUE ESTABA ANTES DE LOS 80S EN ESPAÑOL ERA LA ÚNICA ESTACIÓN CON ESOS TEMAS INOLVIDABLES, OJALÁ VUELVAN A PONERLA PORQUE AHORA ESTA HORRIBLE.

Mariana Juárez

04.09.2019

coincido con algunos amigos que aquí abajo escribieron que es una verdadera lástima que haya cambiado por completo el concepto de la estación, era hermosa, ahora es una estación más de taaaantas que hay, es como cualquier otra, ya no tiene nada de especial, estaría super si volviera a ser como antes, ya no dan ganas de sintonizar esta estación, era única, yo no dejaba de escucharla y, ahora......
Information about the radio
Nuestra programación se compone por el Pop, la Balada Romántica, la Balada Pop y un toque de Rock en español. No somos una emisora de corte romántico, somo un concepto capaz de reunir todos éxitos musicales del ayer. Somos el concepto radiofónico por excelencia capaz de reunir todos los éxitos musicales del ayer. Una emisora de Medios Radiofónicos del Norte, ( El Poder de la Comunicación).
P.D. Adjuntamos logo actualizado.
Radio contacts