Stand with Ukraine. Save peace in the world!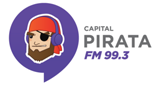 Capital Pirata FM
Pirata FM está dirigida primordialmente a jóvenes de 18 a 35 años pero la calidad y valor de nuestros contenidos apuntan a ser relevantes y atractivos para toda la población. Pirata FM es mucho más que una estación de radio, es una propuesta moderna, joven, positiva, comunitaria, creativa, divertida, con vocación ecológica, social y altruista; una oferta contemporánea a las necesidades de hoy.
TOP songs on Capital Pirata FM
Capital Pirata FM reviews
Mara Lezama es una mujer muy fuerte! Realmente contamos con ella, espero que lo logre y hasta ahora ha hecho muchas cosas muy buenas

Ariel Castillo

18.11.2021

Muchas felicitaciones por la Colosio, no puedo esperar a que quede increible :D

Mara Lezama es una mujer muy noble y honorable, espero que realmente usted suceda el puesto! Tiene todo mi animo!

Carlos Ojeda Rondon

18.11.2021

El turismo viene en alce! Necesitamos priorizarlo para que tambien podamos reactivarnos!

Es algo que es muy delicado, y si se quiere dejar bien tomara algo de tiempo y que quede muy bien, por es que no se puede hacer de un dia a otro! La Colosio sera buena, pero debemos tener paciencia, y mientras manejar con mucho cuidado

Carmen Savedra

18.11.2021

Claro, el Tren Maya nos dara aun mejor turismo, y tambien abrira a otros lugares! Es la mejor idea del mundo!!!!

Felicitaciones, todo muy bien hecho, sigan asi

Muchas gracias por tomarse el tiempo

Linda emisora la sigo desde hace años Saludos desde Cofradía Cortes Honduras

Leonardo Muñoz

17.10.2020

Ya no pasan lo que es las mezclas en la madrugada los dias viernes? o rocanbolesco??