Stand with Ukraine. Save peace in the world!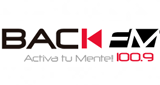 Back FM
Piedras Negras, 100.9 MHz FM
Tus mejores recuerdos los vivirás de nuevo con la programación de la Back FM. Una emisora totalmente en ingés,que transmite desde Piedras Negras en 100.9 FM.
Back FM reviews
Antonio Garcia

26.11.2023

Excelente estación, yo vivo en Monterrey y desde 9 años que visito Piedras negras Coahuila y escuché estación me encanto me regresa a mi adolescencia la música clasics que es la mejor por todos los tiempos

I love the awesome selection of classic music. My favorite internet station at work.

Buenas tardes, disculpen ¿Podrían compartir la playlist de hoy?.

Claudia Ceniceros

04.09.2020

Como quisiera que estuviera tambien su señal en Nuevo Laredo, lo único buena era Juan Charlie con los clásicos, pero lo acaban de cancelar, así que sigo escuchando back fm por internet!!!

Gabriel Fernandez

13.05.2020

hace un anio estaba en Piedras Negras y siempre sintonizando Back FM que bueno que los volvi a encontrar , saludos desde Monclova

Excelente programación

Muy buena música y la verdad los escucho por qué aquí en Puebla ya ninguna estación toca todos estos temas aparte de que también tienen buenos locutores por eso me gusta su estación no cambien muy buena estación

Alonzo Alvarado

21.01.2019

Hola, alguien que me pueda ayudar con las canciones que forman parte del anuncio de back fm, de antemano gracias ;)

Me encanta su programación. Un saludo enorme desde Apodaca, Nuevo León. Adoro ésta música. 😀

Jose Hernandez

22.12.2018

Saludos desde Saltillo Coahuila acá nos hace falta una estación como la de uds. Felicidades sigan adelante!