Stand with Ukraine. Save peace in the world!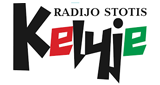 Radijo Stotis Kelyje
Radijo stoties "Kelyje" šaukiniai pirmą kartą nuskambėjo 2000 metais Kaune, 105,9 MHz dažniu ir tai buvo pirmoji radijo stotis Lietuvoje, skirta visiems, esantiems kelyje. Greit ji tapo populiariausia ir klausomiausia radijo stotimi Kaune. 2003 metais "Kelyje" jau skambėjo Vilniuje (107,7 MHz ) ir Klaipėdoje (99,8 MHz), kur taip pat greit užkariavo kelius, radijo imtuvus ir klausytojų širdis.
Radijo Stotis Kelyje reviews
Radio contacts
Mob. tel. 8 611 42 222
Tel. 8 37 422 202