Stand with Ukraine. Save peace in the world!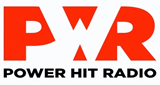 Power Hit Radio
Šokių muzikos hitų radijo "Power Hit Radio" galima klausytis Vilniuje, Kaune, Klaipėdoje ir Utenoje bei šiuos miestus supančiuose rajonuose.
Show more
Information about the radio
"Power Hit Radio" komanda kasdien leidžia į eterį pasaulyje populiariausią ir klausomiausią šokių muziką ir supažindina klausytojus su perspektyviausiais ir talentingiausiais lietuviškos šokių muzikos kūrėjais. "Power Hit Radio" programoje – daugybė laidų, tarp kurių klausytojų labiausiai mėgstamos: "Šok į kelnes" su Sauliumi Baniuliu ir Elena Jančiukaite, "Power hitai" su Rūta Loop, "Power popietė" su Edgaru Kožuchovskiu, "Burbulas" su Vaidu Leliuga ir Vaidotu Buroku ir savaitgalio laida su Aleksu Pozemkausku.
Radio contacts