Stand with Ukraine. Save peace in the world!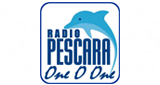 Radio Pescara
Musica Notizie Sport Radio Pescara nasce nella primavera 1975 per opera di due amici uno che trasmette un programma di dediche seguitissimo e l'altro responsabile della redazione giornalistica. La sua vecchia sede era in via Palermo nel 1975 ma negli anni 80 l'emittente si tasferisce in pieno centro a Piazza 1° Maggio, per terminare la sua attività nel 1985 con la vecchia proprietà, in via Lago Isoletta. Le vecchie frequenze in FM 100.88 (successivamente anche 88,00). Radio Pescara è tra le prime emittenti a trasmettere una partita di calcio commentata del Pescara Calcio con una vera redazione sportiva. Nel 1979 viene inglobata anche una tv locale. Nel 1985 chiude i battenti riaprendo con nuovi proprietari nell'era digitale.
Show more
TOP songs on Radio Pescara
Radio Pescara reviews
Claudio Vanzan

25.04.2021

Buongiorno mi chiamo Claudio vivo in Belgio E mi fa molto piacere ascoltarvi

Salve, dopo tanto ho ritrovato la radio della mia infanzia, la mitica Radio Pescara, solo che online mi è difficile ascoltarvi on macchina, come mai non siete più sulle frequenze FM della radio?? Nel frattempo un abbraccio...

Segreteria Generale UGL Trasporto Aereo Abruzzo

11.06.2020

Storica radio di pescara una Hit Radio da oltre 50 anni di storia.

Rampa Operativo

14.07.2019

La radio Mitica dal 1975 Grande da sempre Solo da ascoltare

Manolo Straccialini

12.07.2019

Bella radio
Information about the radio
LA STORIA: Trasmetteva dalle 14 alle 22, ma negli anni 80 24 ore su 24. Tra i primi collaboratori, circa una decina tanti giovanissimi ora voci e conduttori affermati oggi anche in Rai. Disco pera" una sorta di Hit Parade un programma di funky soul e tanta musica e sport. L'emittente viene al tempo sequestrata, e gli allora responsabili vengono condannati con la condizionale, poi riaprono la frequenza, nel frattempo arriva la sentenza della Corte Costituzionale che decreta la fine del monopolio e l'emittente riapre i battenti.
Radio contacts
https://www.instagram.com/radiopescara/