Stand with Ukraine. Save peace in the world!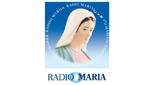 Radio Maria
Radio Maria è un'emittente radiofonica cattolica italiana fondata nel 1982 ad Arcellasco d'Erba.Radio Maria è parte del Network di radio cattoliche internazionali.
Radio Maria reviews
Bardzo, ale to bardzo bym chciał, aby ta rozgłośnia była w Polsce. Od lat mam dla niej zarezerwowany adres internetowy i miejsce na serwerze.

Francesco Cesare

03.06.2022

tutto bene da Caserta

Costello Hondru

17.07.2021

Tanti Auguri del tuo compleanno Roberta.. Costantino Romania.

Ciao... saluto di Paraguay!!

sto ascoltando dal uruguay con il mio nonno da italia

Una emittente veramente piena delle grazie Divine. Le suore che la gestiscono sono di una bellezze d'animo e delicatezza,che per tutto il giorno si è accompagnati da una pace interiore. Offrono una evangelizzazione attiva nelle bellissime catechesi e preghiere, fatte con vera e santa umiltà, abnegazione e passione. H24 di puro amore cristiano direttamente a casa nostra, Dio veramente si compiace in voi e noi pure. La sua benedizione e protezione sia sempre con voi. La MADRE CELESTE vi tenga sotto il suo MANTO proteggendovi da ogni attacco malefico, vi doni il necessario in denaro per peter continuare nel vostro operato di evangelizzazione. Grazie di cuore,io pregherò per voi tutte 🙏🙏🙏❤❤❤

Jose Reis Pimenta

10.03.2020

Sto ascoltanto dal Brasile.

Buon giorno.ho bisogno,di una preghera, per me che sono una situazione,molto,delicata.vi riingrazio e dio vi benedica.

Paolo Frascarelli

17.03.2019

Insuperabile

quale delle due è una bugia?
Radio contacts
https://www.instagram.com/radiomariaitalia/
Time in Erba: ,