Stand with Ukraine. Save peace in the world!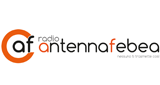 Antenna Febea
Reggio Calabria, 100.3-107.0 MHz FM
Radio Antenna Febea è il ritmo della città di Reggio. Musica, notizie, approfondimento, sport e sano divertimento 24 ore su 24.
Show more
Antenna Febea reviews
Per me è la 1 radio a reggio

Gesuele Pontari

20.05.2020

Grazie per la bellissima musica di ogni giorno, tanti saluti dall'amata Reggio

Carmine Versace

14.04.2020

Ciao Tiziana ,con la quarantena da ieri mi sono collegato con ta tua Onda...piacevolissimo ascoltarti ,tra l'altro una eccezionale voce microfonica,aggiungiamola al resto dei tuoi pregi.Ti seguo con piacere come amico in FB,adesso sei interessante anche come titolare di una rubrica radiofonica....e non parli dibReggina....se no...Ciao buon lavoro,continuo in radio....

Mina Sacristani

08.02.2019

da Lovere (bg) lago d'Iseo !!! un super saluto a Tiziana ....grazie della bella musica ,amo la radio perchè arriva alla gente ,entra nelle case ,buona giornata !!!
Information about the radio
FREQUENZE

Antenna Febea la ascolti a:
Reggio e Messina – FM100.3 e 100.6
Provincia di Reggio Calabria – FM107.0
Milazzo e Isole Eolie – FM100.6 e 107.0
Provincia di Messina Orientale e Catania – FM100.3

Radio Antenna Febea dal 1980 trasmette sulle frequenze FM100.3, 100.6 e 107.00. Nata nella stagione delle "radio libere", è oggi dopo più di trent'anni una consolidata realtà associativa, che da Reggio Calabria propaga le sue onde, su una ampia area vasta che abbraccia ben 8 province (Reggio Calabria, Vibo Valentia, Catanzaro, Crotone, Cosenza, Messina, Palermo e Catania) tra Calabria e Sicilia. Antenna Febea ha accompagnato la generazione dei ventenni degli anni '80 per essere oggi la radio di riferimento di una nuova generazione che cavalca la modernità. Per questo, lasciato l'abbaino di casa, Antenna Febea oggi accoglie nei suoi rinnovati studi, le voci e le esperienze di una realtà in continuo movimento e li trasmette a tutti con nuove energie. Lo stesso nome Febea rimanda agli antichi racconti di miti greci, per evocare la capacità di irradiare e trasmettere la "luce " che squarcia i cieli e i tempi piu' grigi. La programmazione si articola in autoproduzioni locali e nazionali attraverso il circuito In Blu. La rotazione musicale, l' intrattenimento e l' informazione si alternano in modo dinamico per accompagnare l'ascoltatore in ogni momento della giornata. Antenna Febea comunica lo speciale del quotidiano, per questo anche in questo nuovo inizio on line: "Nessuno ti trasmette così".
Radio contacts
https://www.instagram.com/antennafebea/