Stand with Ukraine. Save peace in the world!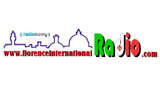 Florence International Radio
Florence International Radio - La Radio Web per la meravigliosa città di Firenze in Italia! In Diretta dal vero centro dalla città Italiana più bella del mondo ... Firenze! Programmi in diretta, musica, intrattenimento e tante risate!
Show more
TOP songs on Florence International Radio
Florence International Radio reviews
Federica Zanforlin

21.08.2022

Vi state dimenticando del nostro appello

Vi ho scoperto ora. Viva Fiorenza!!! ♥️⚜️

Daniele Bronzi

23.01.2020

ottima

Παναγιωτης Ντινιδης

22.11.2019

SALUTI DA SERRES(GR).MI FATE VOLARE DA CUELLI PARTI E MI SENTO MOLTO BENE.MOLTI ANNI FA STUDIATO A FIRENZE.ARCHITETTURA.BUONGIORNOA TUTTI.

Aurelio De Aurelis

17.10.2019

Bravi!

Jesse W. James

23.09.2019

Mi fa compagnia tutto il giorno poi La Notte Del Mistero non me la perderei per niente

Pixel Scienza e Tecnologia

15.04.2019

Una radio web fatta bene e con passione
Information about the radio
vUn palinsesto ricco ed interessante! la diretta del sabato pomeriggio dalle ore 15.00 è la trasmissione ammiraglia della radio. In studio il patron Daniele Bronzi e il vassallo Riccardo Pini con ospiti meravigliosi, divertenti e band e gruppi che suonano rigorosamente live! Seguici sulla nostra pagina facebook ufficiale mettendo il like per vedere le foto, i video e le novità della settimana!
Radio contacts