Stand with Ukraine. Save peace in the world!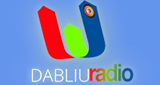 Dabliu Radio
Dabliu Radio è stata fondata nel 1979 a Palermo. Oggi trasmette 24 ore su 24 in FM in alcune zone della Sicilia e via web. Viene trasmessa musica italiana e straniera di vario lasciando spazio anche a programmi di intrattenimento. Sin dall'inizio l'emittente si è fatta notare per i jingles americani.
Dabliu Radio reviews
La mia radio preferita in Sicilia. Musica spesso molto buona, e niente pubblicità! Davvero incredibile. Da qualche giorno è scomparsa da 88,8 Mh e non la trovo più. Cosa è successo, non tornerà mai? Mi dispiacerebbe molto. Mi danno tanta noia le altre stazioni fm che sono perlopiù inascoltabili, capital e virgin comprese. Tornate, per favore!