Stand with Ukraine. Save peace in the world!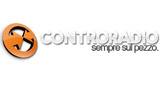 Controradio Bari
"Controradio ha compiuto nel 2010 i suoi primi trent'anni di storia e che, fin dalla sua nascita, ha portato nell'etere di Bari e Provincia una voce "fuori dal coro", differente in ogni senso.
Show more
TOP songs on Controradio Bari
Controradio Bari reviews
Roberto Dimaggio

30.06.2023

,
Information about the radio
La differenza è rappresentata dalla presenza costante sul territorio, dall'attenzione per temi spesso "dimenticati" dai media generalisti, dall'impegno quotidiano delle sue trasmissioni su temi come quello dell'ambiente, delle culture, del volontariato, dei diritti.
Il tutto, seguendo uno stile originale e creativo, con la costante introduzione di nuovi format e il rafforzamento delle sue rubriche di informazione e intrattenimento.
La differenza è data dalla filosofia della sua redazione, dinamica e vivace, in grado di approfondire le notizie del giorno e di comunicarle con tempismo e professionalità, attraverso spazi informativi che toccano tutti gli argomenti di maggiore interesse: politica, cronaca, attualità, cultura, sport, spettacoli.
Sempre sul pezzo! - come recita il fortunato slogan che accompagna il logo della radio - oggi più che mai diventa il claim di una voce nuova che parla ai professionisti e alle imprese, come alla cittadinanza e alle Istituzioni."
Radio contacts
Time in Bari: ,