Stand with Ukraine. Save peace in the world!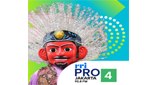 RRI Pro 4
Radio Republik Indonesia (RRI) is the state radio network of Indonesia. The organization is a public broadcasting service. It is a national radio station that broadcasts all over Indonesia and abroad to serve all Indonesian citizens throughout the nation and overseas. RRI also provides information about Indonesia to people around the world. Voice of Indonesia is the division for overseas broadcasting.
Show more
RRI Pro 4 reviews
Pak anang ilove ypu fulll

Muhammad Faridz

07.03.2023

semangat kang apip

mfatoniasyhari

13.02.2023

Terima kasih Dr. Hendra Kholid

Halo kak, mau tanya ada jadwal siaran tentang pendidikan hari ini, jam brp ya kak?

Mantep..

Bambang Sugiyarto

08.11.2021

Mantul .pro 4 rri jaya selalu

Subekti Mangku Harjo

01.05.2021

Mantap pro 4,

Muhammad Sholeh

17.02.2021

keren bang salim try

Pro4 Jakarta memang peduli kebudayaan Nasional. Jaya selalu

Revo Asparilla

11.03.2020

halo uda dan uni sado nyo...klau bagabuang di washap nyo minang bakaba apo no nyo uda dan uni salam untuak sanak sado nyo terutamo untuak perantau pasisia selatan..namo awak revo asparila kampuang di indopuro marantau di jakarta.salam ikatan perantau pancung soal ikapsoooo...🙏🙏🙏
Information about the radio
RRI was founded on 11 September 1945. Its headquarters are located on Jalan Medan Merdeka Barat in Central Jakarta. Its national news network Pro 3 broadcasts on 999 kHz AM and 88.8 MHz FM in the Jakarta area and is relayed by satellite and on FM in many Indonesian cities. Three other services are transmitted to the Jakarta area: Pro 1 (regional radio), Pro 2 (music and entertainment radio), and Pro 4 (cultural radio). Regional stations operate in major cities throughout the country, producing local programmes as well as relaying national news and other programmes from RRI Jakarta.
Radio contacts