Stand with Ukraine. Save peace in the world!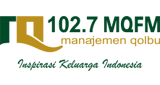 Radio MQFM Bandung
Radio Inspirasi dan Motivasi... begitulah kami menyebut diri kami .... Nama Ini diambil semata untuk menegaskan dimana posisi radio MQ fm di percaturan radio di Indonesia. Lantas seperti apakah inspirasi dan motivasi yang kami angkat dan berikan untuk sahabat MQ sang pendengar radio Kami ?. Maka kami mengambil islam sebagai sumber dari segala sumber inspirasi dan motivasi.
Show more
Radio MQFM Bandung reviews
Knp tdk membela rusia, ukraina penduduknya nonis dan membelot akan bergabung pd nato kelompok penghancur dunia. Di rusia ada negara checnya yg 100% penduduknya muslim

Ciamis Alhamdulillaah hadir.. semoga bermanfaat untuk ummat.. Aamiin 🤲🏻

Tjutju Tjahjaman

07.06.2020

Give good guidance for living based on Al Quran and Prophete Muhammad Hadits.

Melahat Subaşı

18.04.2020

Iııı

Turkey

Situbondo Jawa Timur Hadir

Assalamualaikhuum wr wb, Saya mendengarkan siaran Radio MQ FM Bandung dengan baik sekali kualitas suaranya menggunakan laptop pada streaming radio. Itu saja yg bisa disampaikan . Wassalamu alaikum wr wb.

salamun alaikum semoga berkah ya .meskipun jarak saling berjauhan., namun kedengaran jelas dan terang.

Tokopancingberkualitas Tasikmalaya

29.08.2019

di Tasikmalaya sudah 3 bulan lebih loading terus, kenapa ya

Salam jimaters dari blutoek di kec.sekar bjonegoro
Information about the radio
Kami berharap dengan diangkatnya islam sebagai sumber inspirasi dan motivasi, maka kelak akan terbangun pribadi-pribadi mulia yang berakhlak dan berkarakter unggul yang pada akhirnya akan menjadi sebuah aset besar untuk membangun kembali peradaban mulia yang mengangkat nilai kemanusian sebagai manusia seutuhnya.
Radio contacts