Stand with Ukraine. Save peace in the world!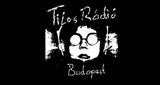 Tilos Rádió
A Tilos Rádió egy budapesti nonprofit rádió. A műsorkészítők a legkülönbözőbb polgári foglalkozásúak, talán éppen újságíróból és médiaszakemberből van köztük a legkevesebb. A rádió hallgatottsága pontosan nem ismert, de az elmúlt években több rádióhallgatási szokásokat vizsgáló közvélemény kutatásba is bekerült a Tilos Rádió. Ennek alapján a Tilos hallgatottság folyamatosan emelkedik és napi szinten 30 000 hallgatóval, havi szinten pedig 100 000-nél is több egyedi hallgatóval rendelkezik.
Show more
Information about the radio
A műsorok zöme a hallgatói részvételre épül, a szerkesztés szerves eleme a betelefonálók és a műsorkészítők közötti aktív együttműködés. Ez nemcsak az interakciót tartalmi elemként használó, beszélgetős műsorokra igaz, hanem a tematikus magazinokra és a zenei műsorok egy részére is. A hazai médiagyakorlatban korábban szokatlan részvételi rádiózást a Tilos honosította meg Magyarországon. A teljesen nyitott, kötetlen interaktivitás teremti meg azt a médiában ismeretlen helyzetet, amelyben egy-egy hallgató éppen úgy lehet a műsor sztárja, ahogyan a műsorvezető. A Tilos Rádióban a hallgató nem feltétlenül passzív célszemélye a programoknak, hanem többnyire lehetősége van a műsorok irányának aktív alakítására, bár természetesen nem a műsorvezetővel azonos szinten.

Minden hétköznap 19:30-as kezdettel esti mese hallható a rádión. A hangjátékszerű meséket a rádió műsorvezetői, zenészei, hallgatói és technikusai készítik.
A Tilos Rádió műsorpolitikájának egyik fő ismertetőjegye a zenei sokszínűség. Alapelvük, hogy olyan előadóknak és irányzatoknak adnak helyet a legváltozatosabb stílusokból – az experimentális műfajoktól a világzenén és jazz-en át a legfrissebb tánczenéig –, amelyek máshol nem hallhatóak.
Radio contacts
postal address: 1462 Budapest, Pf.: 601. Hungary
adástelefon: 215 3773