Stand with Ukraine. Save peace in the world!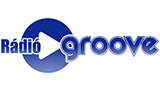 Rádió Groove
Hallgasd online a Rádió Groove-ot, Magyarország új zenecsatornáját! A rádió készítői ismert, elismert szakemberek, több évtizedes tapasztalattal. Az elmúlt években hallhattad munkatársaikat és műsoraikat, többek között a Rádió Extrém, az Aktív Rádió, a Dió Rádió, a Frisss FM, a Fehérvár Rádió, a Rádió 6, a Sláger FM frekvencián. A Groove-on a hiánypótló zenei válogatás mellet óránként híreket, és napközben zenei rovatokat hallhatsz.
Show more
TOP songs on Rádió Groove
Information about the radio
Felidézik a disco korszakot, a 80-as pop aranykorát, de náluk otthon vannak a rock klasszikusai, a 90-es évek európai és amerikai sikerei, valamint itt szólnak napjaink legjobb előadói is. Náluk nem az évjárat számít, hanem a minőség, ezért is hallhatsz olyan dalokat és előadókat, akiket sehol máshol!

Néhány kiemelt előadó: Bee Gees, Michael Jackson, Whitney Houston, Bruno Mars, Chic, De La Soul, Earth Wind And Fire, Kool And The Gang, George Michael, Ed Sheeran, Level 42, Prince, Madonna, Pointer Sisters, Sia, Tone Loc, Simply Red, Rihanna, Toto.

Fedezd fel te is a Rádió Groove-ot, és formáld ízlésed szerint!
Radio contacts
Email: [email protected]
https://www.instagram.com/radiogroove/