Stand with Ukraine. Save peace in the world!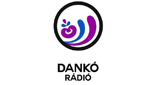 Dankó Rádió
2012. december 22-én reggel 6 órakor megkezdte adását a közmédia új zenei rádiócsatornája, a klasszikus magyar nótát, cigányzenét, operettet és népdalt sugárzó Dankó Rádió.
Dankó Rádió reviews
Értékelhetetlen! Nem elérhető lejátszási listák! Sehol nem lehet előkeresni az általuk játszott nóták szövegét!

Nagyon köszönöm,hogy telefonon értesítettek az általam kért nóta címéről. Nagy Béla

Krisztian Harsanyi

01.12.2022

Nem valami nagy szám!!!!!!! Nagyon gyenge a radio minden téren!!!!!!!

Tomasz Poslouchá Vaše hity. Krásné Písně

Anna Bottyánné Méhes

19.10.2021

Szuper!!

Nagyon jó

KIVÁLÓ. Továb Sydney Austrália.

kIVÁLÓ

május.26. án férjem 86. szüli napjára kértem Vámosi -Zárai-tól Köszönet a boldog évekért, nem adták le, helyette Szécsi Pál csak egy tán volt adásakor olvasták be a nevünket. Ez már a második eset. Panaszomra válaszra sem méltattak. Milyen véleményem lehet Tarnai Kiss Lászlóról, a két eset után. Kitűnő

Anna Maria Szabo

29.05.2020

Kituno!