Stand with Ukraine. Save peace in the world!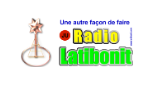 Radio Latibonit
Radio Latibonit est une station de radio commerciale fondée en aout 2015, basée à Saint-Marc et qui émet sur tout le département de l'Artibonite et quelques autres villes des départements de l'Ouest, du Nord et du Centre d'Haïti.
Show more
Information about the radio
adio Latibonit veut apposer dans le paysage médiatique haïtien un service de diffusion d'intérêt public ayant pour objectif de permettre à toutes les personnes habitant la région et possédant un appareil dit « récepteur » de recevoir clairement des programmes nécessaires à leur progrès.
La radio Latibonit est créée dans une période où le cadran semblait saturé et pourtant très vite elle a acquis une place de choix dans le classement des grands médias d'Haïti avec une bonne programmation, un son incomparable et un personnel qualifié et expérimenté.
Radio contacts