Stand with Ukraine. Save peace in the world!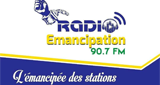 Radio Émancipation FM
Radio Emancipation FM-90.7 is a radio broadcasting from Haiti that can be heard in France, the United States, Canada and the Dominican Republic. Find thematic programs, local news, sports, culture and Haitian music, Caribbean, reggae and Pop or Rock.
Radio Émancipation FM reviews
JEAN-MARIE PIERRE

20.09.2023

Depuis Haïti

Mikerlande Pierre-louis

10.10.2021

Bondye béni nou

Pierre Richard Semerant

21.07.2021

Ok tande Callejon! Mwe fin di mw pa nan tande radyo ankò epi w fè m tounen fanatik couloir du compas!! Kontinye klere pou lòt yo ka wè ! Blaaaw!

Neg corruptè, volè yo, kidnapè yo, machann micro yo, neg ki rayi development, education, voyé crazé antèn radio emancipation paskeu Morvan John Colem ap bay verite, sou drug dealer, kidnapper yo. John MORVAN fenk lagé nan dada nou. Testicules nan fesse.pout mete dosye vòlè sa yo deyò.

Bat bravo pou lajenes. Patrick Monsignac resi paka HT sa ni bandi nan repiblik la