Stand with Ukraine. Save peace in the world!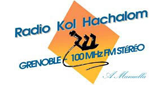 RKH Radio Kol Hachalom
C'est la radio de la communauté juive de l'agglomération grenobloise, Kol hachalom signifiant la voix de la paix en hébreu. Elle assure une couverture de l'actualité culturelle concernant Israël, mais aussi de la vie politique en invitant des élus locaux. Sa programmation musicale est diversifiée, entre musiques venant d'Israël ou de Californie.
RKH Radio Kol Hachalom reviews
Radio contacts
Fax : (33) 04 76 47 58 31