Stand with Ukraine. Save peace in the world!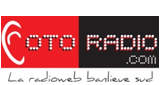 Oto Radio
OTORADIO, webradio associative libre et insolite 24/24 sans pub (depuis 2006) Aidez-nous à atteindre les 1000 fan d'Otoradio sur FB ;) OTORADIO, reste accro !
Show more
Information about the radio
OTORADIO,
C'est la réalisation du projet de l'association Radioweb Banlieue Sud,
La première radio de proximité pour les habitants de la banlieue sud de Paris.
30 ans après l'émergence des radios hertziennes libres, le Web permet aujourd'hui de créer une nouvelle génération de radios indépendantes. Internet est donc le support idéal que nous avons choisi pour diffuser nos programmes depuis le 20 mai 2006. Lire l'historique d'OTORADIO.

OTORADIO soutient le développement local et associatif dans les quartiers populaires et peu médiatisés, avec la collaboration des acteurs de la vie culturelle et sociale de notre banlieue. Lire les missions d' OTORADIO en détails.

Nous proposons des émissions originales où les animateurs, salariés et bénévoles, mettent en valeur la richesse du tissu culturel et social local, à travers la diffusion de leurs entretiens et reportages.

OTORADIO se donne aussi pour mission de découvrir et de promouvoir des jeunes talents musicaux de la banlieue sud. Ils reflètent la diversité de notre programmation musicale.

Nous produisons depuis 2009 des émissions thématiques réalisées par des jeunes de Bagneux, Arcueil, Cachan et Gentilly. Aujourd'hui nous mettons en place des ateliers d'initiation aux techniques radiophoniques pour permettre aux jeunes de 7 à 17 ans de s'exprimer sur des sujets qui les intéressent à travers la réalisation d'une chronique, d'une interview ou d'un reportage.

OTORADIO et son équipe sont ouvertes à toutes les personnes curieuses et passionnées par les métiers de la radio, elle doit également servir de tremplin à tous les nombreux projets et initiatives locales à l'écart de la médiatisation.
Radio contacts