Stand with Ukraine. Save peace in the world!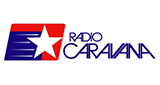 Radio Caravana
Radio Caravana 750 AM: Toda la información del deporte, Campeonato Ecuatoriano , fútbol Internacional, Champions, Copa Libertadores y mucho más..
Radio Caravana reviews
Jorge Leonardo Vargas Zurita

31.05.2023

Pileggi escuche, aquí están sus asesores. Escoga uno.

se olvidaron de Petronio Salazar,Jacinto Landazuri ,Ricardo Chacon Etc,los escucho siempre desde Astoria NY,saludos y fuerte Abrazo.

Buenos días señores caravana no se que pasa pero intente escucharlos de diferentes maneras y no he logrado gracias son excelentes espero volver a escuchar

francisco ponce

29.11.2022

Hola y buen dia , saludos desde Italia , xq no se puede escuchar la radio .? Gracias

buenas noches sñr caravana parami es un placer escuchar todas las noticias y espero seguir escuchandolas gracias.

Johny Alexander Zumba Vinces

22.08.2022

HECTOR LAUTARO CHIRIBOGA, DEBER SER SUSPENDIDO 2 AÑOS CALENDARIO, SIEMPRE FUE POLEMICO EN CANCHA, FUE ARQUERO,,,,,BUENOS DIAS SRES RADIO CARAVANA...NO SE JUSTIFICA LA VIOLENCIA.....EL JUEZ PUEDE TENER ERRORES....PERO, PARA MI SI FUE PENALTI....GRACIAS....BENDICIONE S

Jorge Sanchez Adrián

06.06.2022

Buen día amigos saludos para todos desde santiago de Chile 🇨🇱

Excelente programa los comentaristas, los escucho cada que puedo acá desde NY... Sé que al tema de Castillo no es bueno darle bola a los chilenos, por el tema legal, pero mi pregunta es.... Si se llegara a dar el caso de que suspendan al jugador por que dicen que es colombiano, se vería afectado con los puntos el equipo que él juega, en este caso Barcelona..?? Porque es difícil, por no decir imposible que a Ecuador lo suspendan del mundial, pero si el jugador es colombiano. Estaría el equipo incumpliendo el cupo de extranjeros..?

Klever Solis Cabrera

03.05.2022

Excelente lo mejor en programas deportivos con los mejores profesionales en la materia

Adolfo Valencia Farah

22.04.2022

Felicitaciones a Radio Caravana buena programacion.