Stand with Ukraine. Save peace in the world!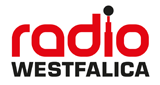 Radio Westfalica
Minden, 95.7-106.6 MHz FM
Radio Westfalica ist ein Lokalradio für den ostwestfälischen Kreis Minden-Lübbecke. Das Lokalradio sendet aus seinem Studio am Johanniskirchhof in Minden gemeinsam mit Radio Herford fünfzehn Stunden Lokalprogramm. Das Radio sendet die wichtigste Nachrichten, aktuelle Verkehrsinfos und die beste Comedy. Und der ganze Tag gibt es die beste Hits!
Show more
Information about the radio
Die Morningshow "Die Vier von hier" wird montags bis freitags von 5 bis 10 Uhr live aus Minden gesendet.Von 10 bis 15 Uhr sendet Moderatorin Christina Wolff aus dem Studio von Radio Herford fünf Stunden regionales Programm. Die Nachmittagssendung "Von drei bis frei" läuft von 15 bis 20 Uhr. Bürgerfunk läuft täglich von 20 bis 21 Uhr. Sendungen von Schülergruppen laufen zeitweise samstags zwischen 18 und 20 Uhr.
Radio contacts
Fax (0571) 83783-65
Email:werbung(at)radiowestfalica.de