Stand with Ukraine. Save peace in the world!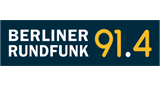 Berliner Rundfunk
Der Berliner Rundfunk 91.4 ist ein privater Hörfunksender aus Berlin. Er ging am 1. Januar 1992 als Nachfolgesender des DDR-Hörfunksenders Berliner Rundfunk auf Sendung und war damit der erste Privatsender Ostdeutschlands.
Show more
Berliner Rundfunk reviews
Information about the radio
Der Berliner Rundfunk 91.4 sendet ein 24-stündiges Vollprogramm und orientiert sich musikalisch an den Hits der 1970er und 1980er Jahre. Die Morgensendung "Wir lieben Berlin" moderiert Simone Panteleit. Als männliche Station-Voice fungiert Michael Lott, als weibliche Stimme Sina Fischer. Produziert wird das Programm im Medienzentrum Berlin.

Gesellschafter sind die DuMont Funk und Fernsehen GmbH & Co. KG (M. DuMont Schauberg; 42,9 Prozent), die Märkische Verlags- und Druckhaus GmbH & Co. KG (42,9 Prozent) und die Radio-Information Audio-Service Zwei GmbH (14,2 Prozent).
Radio contacts