Stand with Ukraine. Save peace in the world!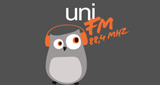 uniFM Radio
Seit 2006 gibt es das Uniradio Freiburg, das via Webradio weltweit und auf UKW 88,4 im Raum Freiburg empfangen werden kann. Studierende konzipieren unter professioneller Anleitung eigene Magazin- und Musiksendungen, moderieren live-Events und organisieren Sondersendungen wie zum Beispiel die 24-Stunden-live-Show.
Show more
Information about the radio
Das Uniradio Freiburg bietet die Möglichkeit für Studierende aller Fachrichtungen Praktika zu absolvieren, BOK-Kurse abzulegen und einfach beim Mitmachen den Radio-Alltag kennen zu lernen. Neben dem Studium können so wichtige Kompetenzen, sowohl für eine eventuelle Zukunft im Journalismus als auch im grundsätzlichen Umgang mit Recherche, Technik und Menschen erlernt werden.

Daneben bietet das Radio auch die Plattform für Mitarbeitende und Forschende an der Universität, ihre Ergebnisse zu präsentieren, Tagungen und Veranstaltungen publik zu machen sowie auf interessante Workshops und Vorträge aufmerksam zu machen.

Wir stehen für nicht-kommerzielle Independence-Musik abseits des Mainstreams, und sorgen dafür, dass auch unbekannte Künstler aus unserer Region gehört werden:

In den Freiburger Studenten-WGs, in den Büros der Uni und Uniklinik, und darüberhinaus natürlich von allen interessierten Hörern.

Gemeinsam mit unseren Kooperationspartnern sorgen wir für ein aktuelles, interessantes und abwechslungsreiches Programm. 24 Stunden, 7 Tage die Woche.
Radio contacts
https://www.instagram.com/unifm884/