Stand with Ukraine. Save peace in the world!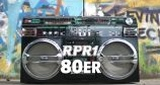 RPR1 - Best of 80s
RPR1. ist ein 1986 gegründetes Privatradio. Nach der Liberalisierung des Radiomarktes in Rheinland-Pfalz wurden in Ludwigshafen die Weichen für das Privatradio gestellt. Der Sendestart war am 30. April 1986 um 18:30 Uhr und damit war RPR1 der erste landesweite private Hörfunksender in Deutschland. Betreiber von Radio RPR ist die Firma Rheinland-Pfälzische Rundfunk GmbH & Co KG.
Show more
Related radio stations
Show more
RPR1 - Best of 80s reviews
Information about the radio
Alle großen NDW-Hits hier im 80er Radio
Die 80er Jahre schlugen in Deutschland musikalisch ein wie eine Bombe - das beweist auch unsere "Best of 80s-Playlist" hier im Internetradio. Hier gibt es nur die größten Hits der 80er Jahre!

Weg von den allerletzten Resten des "Wirtschafstwunder-Schlagers" hin zur Neuen Deutschen Welle mit Musikern wie

Nena
Trio
Extrabreit
Peter Schilling
Hubert Kah
Fräulein Menke
Joachim Witt
Paso Doble
Markus
Ideal
und vielen weiteren Top-Acts!
Radio contacts
Fax: 0621 - 521961
https://www.instagram.com/radiorpr1/