Stand with Ukraine. Save peace in the world!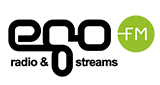 Ego FM
EgoFM ist Radio, aber anders. Der Sender entdeckt ständig neue Musik. Und davon verdammt viel. Electro, Indie und Alternative: Bei egoFM gibt es das alles. Plus die Old School Klassiker aus den Clubs der Welt. Über UKW ist egoFM in München, Augsburg, Stuttgart, Nürnberg, Regensburg und Würzburg zu empfangen. Und rund um die Uhr im Livestream.
Show more
Related radio stations
Show more
Ego FM reviews
Mariann Thorne

29.11.2022

love merci mercy thanks
Information about the radio
egoFM ist ein privater für die bundesweite Verbreitung lizenzierter Musiksender in Bayern. Kernzielgruppe sind junge Menschen zwischen 19 und 35 Jahren.
Kern des Konzepts ist es, Jugendlichen das Radio wieder näherzubringen. Dies geschieht durch eine enge Verknüpfung mit dem Internet, durch aktive Programmmitgestaltung Jugendlicher und mithilfe eines breiten Musikangebots. Dieses besteht aus Electronic Pop und diversen Black-Musik-Stilen wie zum Beispiel R&B, Hip-Hop, Rap, Reggae, Soul, Alternative Rock, Britpop, Independent Pop & Rock, Dance oder Club-Music.
Ziel ist nach eigener Aussage eine Abgrenzung zum Formatradio und zum seichten "Dudelradio". Bei diesen steht der möglichst nahtlose Durchgang der Lieder im Vordergrund; alternativere Songs und Konzepte kommen bei solchen Sendern kaum zum Zug. Dies führt im Regelfall dazu, dass im "Dudelradio" immer die gleichen Lieder gespielt werden (Heavy Rotation) und die Musikauswahl überhaupt sehr schmalbandig ist.
Radio contacts