Stand with Ukraine. Save peace in the world!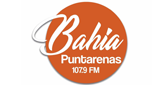 Radio Bahia Puntarensa
Radio Bahía Puntarenas 107.9FM cuenta con una excelente cobertura que abarca toda la Vertiente Pacífica del país. Esta emisora ha visto crecer su audiencia conforme se ha extendido su señal y debido a sus años de trabajo y programación variada, es reconocida y querida por la audiencia local de pueblos en Puntarenas como el Cantón Central, Esparza, Montes de Oro (Miramar), Parrita y Garabito (Jacó). Su señal se extiende a Guanacaste a sitios como Nicoya, Santa Cruz, Bagaces, Carrillo, Abangares, Tilarán, Nandayure, Hojancha, Liberia y Monteverde.
Radio Bahia Puntarensa reviews