Stand with Ukraine. Save peace in the world!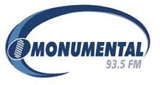 Monumental 93.5
Las últimas informaciones de Costa Rica y el Mundo.
Monumental 93.5 reviews
Porque hablan tanto del equipito que tiene 10 años de nada de nada hablen solo del bicampeón no sean tan fanliga

que grato es escucharlos conversando sobre la experiencia, pero particularmente sobre la actividad deportiva en la que participaron en Kerala, India. Y de anecdotas, peripercias que se pasaron viajando a la India y viceversa.

Michael Madrigal

05.07.2023

huelga de vagos

Roberto Rignack Cañas Ruiz

21.06.2023

Qué desperdicio poner a esa chachalaca a decir babosadas...

Rogelio Palomo Asch

15.06.2023

Que montón de batazos sobre Keylor Navas!!

Mensajero Autofama

12.04.2023

Porque medio se va realizar la entrevista al señor de Punta Leona. Como puedo enviar mi consulta. Gracias

Mauricio Carvajal

03.04.2023

Excelente transmisión saludos desde New Jersey

Ureña Alejandro

06.03.2023

Hay varios peores, nos enojamos porque nos digan que tenemos un futbol amateur, pero es la realidad. Guadalupe, Grecia, Guanacaste, Santos, fatales... Ese partido de ayer entre Santos y Guanacaste, se veía igual o peor que un partido de terceras.

Donald Quesada

12.01.2023

Siguen con la campaña del miedo, la farsa sanitaria y como han convertido a la gripe en una enfermedad apocalíptica. En Argentina e Inglaterra la plandemia terminó por cuestiones políticas y en Costa Rica por decreto.

Alonso Gutiérrez C.

25.08.2022

Analicen un poquito más la táctica, no tanto lo que nosotros como aficionados ya vemos en el fútbol. Algunos, me parece, tienen miedo a decir o expresar las cosas como son, sin pensar en algún técnico, Gerente o miembro del cuerpo técnico de un equipo.