Stand with Ukraine. Save peace in the world!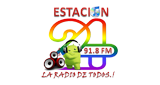 ESTACIÓN 24
ESTACIÓN 24 reviews
Miriam Tierradentro

05.04.2022

Víctor un avicito por fa que el lunes 26 de noviembre abra misa por el alma de ynes Tierradentro a las 5 de la tarde dónde el padre Esnardo. Por 8 meses de fallecida invita su hija Irma

Me puedes regalar una canción del fabulosa gracias

Saludo desde cundinamarca atod mi familia paicoleña

Yudy Yasmin Miranda Castañeda

12.05.2021

felicitaciones

Jesus Armando Bonilla Betancourt

08.03.2021

Un saludo especial a las mujeres paicoleñas que con sus trabajos y esfuerzos por alcanzar metas, han ido transformando nuestra sociedad y logrando un tejido social más incluyente, en el que ellas van ganando protagonismos importantes. Saludo a los estudiantes de la I.E Luis Edgar Durán Ramírez, por esta importante puesta en escena en la que han homenajeado a las mujeres y a nuestro poeta Jesús Alirio Ochoa.

Cesar Camero Garcia

01.02.2021

Muy buena la programación, felicitaciones.

Yordan Julian Ochoa Erazo

01.08.2020

Gracias por tan recálcar el nombre de mi padre en alto, y recordar dichas obras literarias mi gran orgullo y motivación

saludos, desde la hermosa ciudad de popayan,supermegaconetado excelente emisora.bendiciones a todos los residentes de tan hermoso municipio.

Reportando Sintonia Desde Potrerillos Gigante saludos ...

William Palomino

24.03.2020

Un saludo para la familia palomino de liguia palomino desde el ecuador
Information about the radio
PROGRAMACIÓN:

DE LUNES A VIERNES

• 04:00 AM A 06:00 AM La Alborada (Espacio para el Agro Música Popular y Campesina).
• 06:00 AM A 07:00 AM Levantate y Anda (Espacio de la Parroquia).
• 07:00 AM A 08:00 AM. Magazin Comunitario Del Huila. (Noticias)
• 08:00 AM A 08:30 AM Espacio Institucional; Alcaldía municipal, Hospital, policía defensa civil y bomberos.
• 08:30 AM A 10:00 AM Expreso 91.8 (Musical crossover).
• 10:00 AM A 12:00 M La Tusa (Música Popular y Vallenata)
• 12:00 M A 02:00 PM Aires Colombianos (Música Colombiana).
• 02:00 PM A 05:00 PM De Todito (Crossover).
• 05:00 PM A 7:00 PM La Radiola (Música Vallenata y Popular)
• 07:00 PM A 4 AM. Música crossover (Programado).


SABADO

• 05:00 AM A 08:00 AM Des enguayabando Ando Música Popular. (Programado).
• 08:00 AM A 12:00 M. Diegotek Tropical (Viejotek).
• 12:00 AM A 02:00 PM Romance Vallenato. (Programado).
• 02:00 PM A 06:00 PM Corto circuito (Espacio Juvenil).
• 06:00 PM A 05:00 AM. Música crossover (Programado).


DOMINGO

• 05:00 AM A 08:00 AM Des enguayabando Ando Música Popular. (Programado).
• 08:00 AM A 09:00 AM Viejo-teca. (Programado).
• 09:00 AM A 10:30 AM Transmisión Santa Misa.
• 10:30 AM A 04:00 AM. Música crossover. (Programado).
Radio contacts