Stand with Ukraine. Save peace in the world!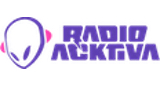 Radio Acktiva
Radioactiva en vivo ofrece toneladas de música rock las 24 horas, con promociones, información de actualidad, novedades de la farándula y noticias, su programas son variados y de mucho entretenimiento.
TOP songs on Radio Acktiva
Radio Acktiva reviews
Alberto Ovalle

07.02.2022

Mmm

Lucia De la Rosa

04.02.2022

Por favor me regalan el número de su wasap?

AVECES LAS IDEAS QUE CREEMOS LOCAS TIENEN UN TRASFONDO LOABLE ..

Saludos desde argentina..me llamo ariel estoy con mi suegro ..escuche la radio en new york y la sigo desde mi pais argentina rosario saludos la radio esta espetacular

luis Mauricio Jaramillo Arce

29.10.2020

No hay una emisora que supere esta, lo mejor de mejor.

Carlos Alberto Olivera

22.08.2020

Son unos genixs, me cago de la risa y me encanta escucharlxs todos los días, solo que los domingos el programa de Kiss es la bomba, me encantan las reseñas de cada artista, de cada canción, súper descontracturadxs los muchachxs, Cordial saludo desde Tandil, provincia de Buenos Aires, República Argentina.

muy mala programación llevo un año en Madrid España y los recordaba como una de las mejores emisoras de rock, lastima que cambio tanto para mal.

Jorge Angarita

08.08.2020

Lo único que le rescataba era los domingos de resurrección, de resto muy mala programación, empezando por ese gallo, que es de lo peor, comemterios sin argumentos... Muy mala, hace mucho años que ni la escucho por lo mala

Conrado Castillo Sepulveda

06.06.2020

Bien

Juan Carlos Ibarra Angel

12.04.2020

Excelente emisora, su programación es muy completa, variada y formativa. Resalto su gran aporte espiritual. Dios les bendiga.