Stand with Ukraine. Save peace in the world!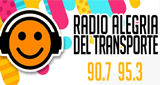 Radio Alegría del Transporte
Radio que difunde una variada oferta programática desde la que se busca entretener e informar a los oyentes, también con variados espacios de la mejor música que se dirigen especialmente a los profesionales del transporte.
Radio Alegría del Transporte reviews
Monica Cardenas

12.11.2022

Desde siempre la radio Alegría del trasporte vivió conmigo todos los días acompañándome,

Karen Echeverria

16.12.2020

Hola buenas quisiera saber de los cursos gratis que hay aquí en calama con urgencia

saludos riguito dj

Yerick Antonio Santiago Aviles

16.07.2020

Hola nesesito el.numero que dieron para chofer de camion algibe porfavor buena la radio

Hoy, conociendo su emision' desde la Cisterna, Santiago.

Alberto Quispe Calle

19.10.2019

Buena radio buen sonido saludos desde arica

Buen sonido y no se va la señal saludos desde usa

Juan Pasten Bustos

04.04.2018

Una excelente radio que nos acompaña diariamente en la ruta y en nuestro hogar,con canciones, informaciones.