Stand with Ukraine. Save peace in the world!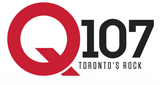 Q107
Q107 - CFGQ is a broadcast radio station in Calgary, Alberta, Canada, providing Classic Rock, Pop and R&B Hits music.
Show more
On the air Q107
| | |
| --- | --- |
| Live | . - FPL RADIO $149 - SPECSAVERS |
| 14:05 | . - CONNECTIONS 0712 - RENOVATIONS BY HEARTH & HOME |
| 14:05 | . - TRUMAN 2023 10 A - TRUMAN HOMES |
Q107 playlist
Q107 reviews
I like talk radio. It's very informative. Probably because I'm older too now and the music on radio is all repetitive and the same so after 50 years music radio becomes boring. LOL

107 is dead to me, I want the good music they used to play, not just talking!

Ravenmoon Spicer

22.03.2023

Wonderful! Thought-provoking and so very interesting touching upon current events and topics that impact us. This is so much better than the Q107 garbage which just had Led Zeppelin, ZZ Top, and Pink Floyd on consistent replay. Keep up the conversation, discussion, and talk! Let's practice proactive listening and challenge perceptions. Finally!

Matthew Engelage

16.01.2023

The new 107 is garbage!!!! Who wants stupid talk radio. I change the channel when I hear talking. Stupidest decision this radio station ever made!

Man what happened. Q107 sucks.

Is now brutal!

Q107 is dead, stop listening to them. follow the dj's on (hopefully their new station)

Mark Andre Arpin

26.08.2022

welcome back

I am new to the station and have been listening for the pst week, great selection of songs!

Mark Andre Arpin

17.06.2021

1
Information about the radio
CFGQ-FM is a Canadian radio station broadcasting at 107.3 FM in Calgary, Alberta with a classic rock format branded on-air as Q107. CFGQ's studios are located on 17th Ave SW near Westbrook Mall, while its transmitter is located at 85th Street Southwest and Old Banff Coach Road in western Calgary. The station is owned by Corus Entertainment which also owns sister stations CKRY-FM and CHQR.
Radio contacts
Fax: +1 403-444-4319

Instagram: www.instagram.com/q107calgary/
YouTube: www.youtube.com/user/Q107Calgary