Stand with Ukraine. Save peace in the world!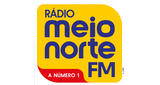 Rádio Meio Norte
Transmitindo a partir de Teresina, Piauí, a Rádio Meio Norte está no ar desde 1990. É propriedade de Paulo Guimarães, pertencendo ao Sistema Integrado de Comunicação Meio Norte. Sua programação inclui entretenimento e música.
Rádio Meio Norte reviews
Amo ouvi essa radia principalmente quando estou deitada

Meio Norte FM é Show

bom

Sinal muito bom em São Paulo

Joaquim Rodrigues Félix

27.03.2020

Sinal mto bom em Brasília/DF

Francisco da silva sousa

10.01.2020

Boa tarde a todos do bairro água mineral. Aqui e nildo da Bahia

Ótima aki em Brasília DF curtindo

Wellison da Silva

24.07.2019

radio m n muito bom stou ouvindo aki de bsb, e desejo á tds q estao ligadinhos na melhor uma boa tarde chaauuu brigadooo!