Stand with Ukraine. Save peace in the world!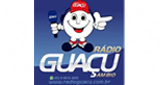 Rádio Guaçu
Rádio Guaçu AM-810, a primeira em Toledo. Noticia local, alcance regional, qualidade nacional.
Rádio Guaçu reviews
Q HORAS É O SORTEIOS DO TORNEIO??

Alessandra Mazzucco

05.05.2022

gosto da sinceridade desse programa do Edio ,parabéns faz pouco tempo que acompanho mas por por influencia do meu pais Marlene e santinho Mazzuco que não perdem um dia seu programa, e agora entendo e por isso acompanho seu programa todos os dias na minha empresa.

Juliana Hemkemeier

28.12.2021

Bom dia , Sou Juliana Hemkemeier quero agradecer a rádio por avisa sobre nosso gado mestiço que tinha sumido de nossa propriedade, encontramos ontem de tardezinha com os cavaleiros , quero deixar nosso muito obrigado 🙏

Milena Machado

15.02.2020

Meu pai vercelino machado dando uma entrevista por ser um dos pioneiros de Toledo, que orgulho pai <3

Ouvindo o melhor do futebol aqui na rádio numero 1...mas é uma vergonha TEC empatando com o lanterna,só falta perder pra eles e complicar ainda mais a situação

Marcos Jardel Friedrich

29.01.2020

👍🏼👍🏼

CarlaPaulo Macedo

19.01.2020

Olá sou Carla de Curitiba estou acompanhando o jogo do Toledo pela rádio Guaçu.

vanderlei1870 .

05.07.2018

Moro em botelhos MG e sou de Toledo, sempre que posso ouço a radio Guaçu na internet. manda um alo pra gente, meu nome é Wanderlei, conhecido com o apelido de alemão tapeceiro obrigado!