Stand with Ukraine. Save peace in the world!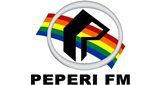 Radio PEPERI
São Miguel do Oeste, 99.9 MHz FM
Rede Peperi De Comunicação - Orgulho De Ser 100% Regional - Feita Pra Você! É a emissora líder da Rede Peperi de Comunicação. Com uma programação voltada ao jornalismo, destaca-se pela informação, entrevistas, reportagens, debates, notícias, esportes, transmissões, coberturas de eventos e prestação de serviços. Sempre inovando com equipamentos de última geração para levar até você, ouvinte e anunciante, a informação na hora em que ela acontece.
Show more
Information about the radio
Fundada em 29/03/1959: 20 Watts, 1370 Kilociclos com denominação de RÁDIO COLMÉIA;
01/05/1979: Alteração de potência para 1000 Watts e denominação para RÁDIO PEPERI;
01/01/1982: Alteração de potência para 5000 Watts;
24/09/1984: Jornalista Ademar Pedro Baldissera lança a rede Peperi de Comunicação.
Radio contacts
https://www.instagram.com/portalpeperi/