Stand with Ukraine. Save peace in the world!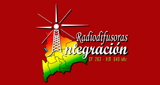 Radio Integracion (La Paz)
Radio Integracion transmite en los 640 kHz, es la señal AM más escuchada en todo El Alto, Bolivia. Su programación informativa y adulto contemporáneo aborda los problemas económicos, políticos y culturales generados en toda la ciudad de El Alto, La Paz y Bolivia. Abarca las noticias locales, nacionales e internacionales en el momento preciso en que ocurren y al mismo tiempo presenta el análisis de los diferentes puntos de vista de cada evento.
Radio Integracion (La Paz) reviews
Victor Vedia alanoca

09.02.2023

Muy buena música,señora Lidia, felicidades por la programación,atte Victor VEDIA A.

.

.

Eliana Carvajal Fernandez

19.02.2021

-

Wow...hoy los escuche programa hablemos claro, me intereso el tema que hablaron hoy sobre el año nuevo andino y voy a preparar esos pankeyks de plátano... muy bonito, felicidades!!! Saludos

Primera vez q escucho el programa hablemos claro , realmente muy buen programa con muy buen contenido , saludos ..!

Abigail Portugal

25.04.2020

Se los escucha muy bien. Sigan adelante ¡HABLEMOS CLARO!

Muchos saludos desde Andeenach Alemania ..

Teddy Moieses Montano

28.03.2020

Que lindo lujito 😍 muchas gracias al programa "HABLEMOS CLARO " Un saludo

Otro año mas con la estación 🎵🎶