Stand with Ukraine. Save peace in the world!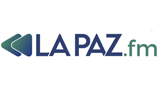 www.LaPaz.Fm
FM La Paz fue fundada el 20 de octubre de 1991 por Henry Dueri y su esposa Leonora Mujía de Dueri. A través de los 96.7 del dial (originalmente 96.9) FM La Paz fue la primera emisora del país en desarrollar y emplear el formato "adulto contemporáneo".
Show more
On the air www.LaPaz.Fm
| | |
| --- | --- |
| Live | Radio Online - LAPAZ.FM |
| 12:40 | DISCO ESTUDIO PROGRAMA DOMINGO |
| 12:30 | Radio Online - LAPAZ.FM |
www.LaPaz.Fm playlist
TOP songs on www.LaPaz.Fm
www.LaPaz.Fm reviews
Osmar Portocarrero castro

06.08.2022

Realmente CONTEMPORANEA felicidades, buena musica, sigan adelante.tienen mi apoyo.

Raúl Flores Muñoz

06.04.2022

FM La Paz, una estupenda emisora ¡¡¡FELICIDADES SIGAN ADELANTE!!! con más música y menos palabras.

Patricia Carrizales

01.08.2021

La mejor y única por siempre!!

Sólo quiero agradecerles, por treinta años de "más música y menos palabras"

Edwin Dario Rodriguez Bustillos

18.06.2020

Estimados de la radio siempre he sido un fans de la emisora cuando vivía en Sopocachi en mi soltería escuchaba todos los días pero como uno se casa se tiene que vivir a otro lugar ahora vivo por barrio grafico y al señal se pierde porfa si podrían mejorar por ese lugar les agradecería mucho y felicitaciones sigan adelante

Johnny Adolfo Poma

22.11.2019

yo vivia en la paz y escuchaba la radio ahora vivo en santa cruz desde el 2006 y por fin pude volver a escuchar a la radio de jovenes contemporaneos saludos y felicidades

Gonzalo Jaldin Montoya

18.10.2019

Buenas tardes. Felicitaciones por los 28 años de la mejor emisora que difunde musica de verdad. Mi radio favorita, en la oficina, la casa, la movilidad y la calle. Muy original y justo para mi gusto. MUCHAS FELICIDADES FM LA PAZ. Atentamente Gonzalo Jaldin Montoya

Soy Fany Nina, ex presidente de la FEJUVE de El Alto.

Rudy Mendoza Sarzuri

22.04.2019

MUY GENIAL ESTA EMISORA , ME ENCANTA

Dante Rodrigo Escobar Contreras

13.04.2019

Muy buen gusto musical, especialmente estos últimos años se siente su resurgimiento..los felicito, son únicos aquí en BOLIVIA. Atte: Dante Rodrigo Escobar Contreras
Information about the radio
Con la premisa de ofrecer al oyente "más música y menos palabras", los disk jockeys (dj's) jamás tuvieron un espacio en nuestra emisora, cuya princip...al característica son los clásicos perfectamente seleccionados de los años 70's, 80's, 90's, además de temas actuales que buscan satisfacer los gustos de una exigente audiencia.

Géneros como el pop, rock, disco y smooth jazz forman parte de nuestra programación.
Radio contacts