Stand with Ukraine. Save peace in the world!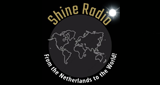 Shine Radio
Internet radio station, overdag de beste Non-stop muziek uit de 80's, 90, 00, tot nu! In de avond uren de live programmering, met o.a. Halverwege met Ron, het Rock Café en Met Ron het weekend uit. Tune in from the Netherlands to the World!
Shine Radio reviews
Lekker radiostation zonder poespas, maar met een goede mix aan muziek, en met ruimte voor de wat minder bekende acts. Chapeau en ga zo door, Shine Radio!

Jeanette Zoetendal

15.08.2021

Geweldig station, geen reclames tussendoor. Veel promotie van Nederlandse en buitenlandse artiesten. Alleen maar top DJ's die hun vak verstaan. Brede muziekkeuze, maar gelukkig geen piratenmuziek.

Margriet de Jong

11.08.2021

Een heerlijk radiostation zonder reclame en hele gevarieerde muziek. Waar je ook nieuwe muziek hoort en luisteraars betrokken worden bij de uitzendingen. Ik raad iedereen aan eens rond te kijken op de website en te komen luisteren!

Really a great station with amazing music. The presenters are very entertaining. Love to listen from Germany

Heerlijke vrije radio met muziek voor iedereen. Wanneer de amateur Professioneel wordt is het zuivere hobby

Ralf Schatorie

09.08.2021

Een leuk muziekstation waar nog eens goede muziek wordt gedraaid door leuke dj's

Fijn station om naar te luisteren. Verschillende muziekgenres en weinig reclame. Een echte aanrader.

Michel Blanken

19.08.2020

Ik plaats deze beoordeling namens mijn (onze) band Moonstruck. Shine Radio is een radiostation waar de enthousiaste DJ's veel oog hebben voor de "kleinere acts" Ze geven deze bands veel airplay staan open om mee te werken aan acties van bands. Zij begrijpen heel goed dat je elkaar nodig hebt om er een succes van te maken. Toppers zijn het.

Vincent van den Bosch

16.08.2020

Fantastisch radiostation met oog en oor voor onbekend talent!!!

Ruth Jochems Sr.

15.08.2020

Fijne gezellige zender die in de avonduren de onbekendere bands draait en de aandacht geeft.
Radio contacts
https://shineradio.business.site/