Stand with Ukraine. Save peace in the world!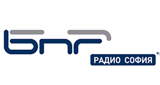 BNR Радио София
Радио София е 24-часова самостоятелна радиопрограма към Българското национално радио.
Show more
BNR Радио София reviews
Михаил Камбуров

03.03.2022

Здравейте,слушам ви в Усогорск,Коми-Русия.В последно време не мога да ви слушам,Вълната се губи някъде

Николай Йорданов

27.09.2021

РАДИОТО Е ОК, НО НА ВСЕКИ ЧАС КОГАТО СЕ СЪОБЩАВА ТОЧНОТО ВРЕМЕ ВИНАГИ ИМА РАЗЛИКА С ПО 3-4 СЕКУНДИ. КОЕТО Е НЕДОПУСТИМО. ОТ БАН СЕ ПОДАВА ТОЧНО ВРЕМЕ ОТ АТОМНИЯ ЧАСОВНИК. А ЗАЩО СЕ СЪОБЩАВА С ЗАКЪСНЕНИЕ ИЛИ С ПРЕДВАРЕНИЕ.?

добро радио

Abtula Gendjev

12.01.2021

Iyi gunler Locvada butun tarlacilari selamliyorum. ABTULA GENDJEV
Information about the radio
"Радио София" е гласът на столицата и региона в семейството на БНР.

Мобилното ни студио и градските агенти ситуират Радио София като жива част от града и реален участник в диалога за неговото настояще и бъдеще. Стартът е всяка делнична утрин с усмихнатото сутрешно шоу "Събуди се, София". Тук основната линия е "Твоят квартал е нашата кауза", който се спира по цяла седмица на един квартал, а в петък прави открито студио от знакова част в него.

С актуална информация и интересни теми ви подготвяме за аромата на нашето "Радиокафе". Всеки следобед е в компанията на "Ритъмът на столицата" и актуалната полемика на деня.

Със "София късен следобед" слагаме финалните щрихи на работния ден и ви повеждаме към "Куиз София" и нощната сцена на града с "Добър вечер, София".

Нашето "Късно шоу" предизвиква сетивата и мнението ви.

Богатата палитра от музикални предавания допълва страстта ни към качествената българска и световна музика, а "Спортна среща" с Камен Алипиев дава начален сигнал за ярките емоции на първенствата.
Radio contacts