Stand with Ukraine. Save peace in the world!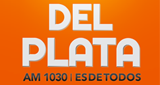 Radio Del Plata
Buenos Aires, 1030 kHz AM
Emisora radial con variedad de programas, que transmite en todas las ciudades de Argentina a través de las ondas y en internet para llevar información de todo tipo a su público
Radio Del Plata reviews
Francisco Carmona

25.06.2021

Que lindo escucharlos desde Barcelona, recordando el futbol del mundial del 78 con Tarantini y Claudia Villafañe!

Gaby Hernàndez

16.05.2021

QUÉ BELLEZA DE MELODÍA ESA CANCIÓN DE CUNA DE ABRAHAM... MUCHAS GRACIAS COHETE...

Liliana, recién la escuché, que falta d objetividad. Que se afeites los sobacos esa feminista. Debe cambiar el discurso para llegar a toda la población, el odio solo siembra odio y se jacta d hablar d amor

Sergio Mainini

19.03.2020

Cómo se llama la canción que pasaron antes de las 23 hs ?(menciona una frase de Troilo) fuerza para la situación que pasan

Alejandro Dante Rivera Aguirre

02.02.2020

Ahora todo es responsabilidad de Macri, se olvidaron de los 12 años de corrupción estructural y vaciamiento de las arcas de país por parte de los líderes del robo y la mentira, Néstor, Cristina y testaferros.

Ramon Bestregui

09.04.2019

Los únicos que me dan otra campanada de la realidad Argentina.llevo camión y los escucho por Europa.lamentando vuestra huelga porque quedan vacíos irreparables;un abrazo a los que aguantan.

Silvana Lucarelli

20.03.2019

me encanta Del Plata, un saludo para todos uds, los escucho siempre, todos de primerisimo nivel, , lamento muchisimo que esten pasando por esta situacion laboral ojala puedan superarla porq los necesitamos, silvana de bahia

Norma De Cristofaro

22.11.2018

Este gobierno le puso el CEPO al salario!

Yo con este gobierno +;no llego al mes ;aca en neuquen estas muy alta la inflacion ;del 2015 cuando se fue sra expresidenta ;no puedo salir de las deudas financieras;que tengo con bbva frances;BST credi logros;mas targeta no se que hacer;la cia donde estoy mañana nos despide ;YPF nos deja sin trabajo

Julio Ataliva Medina

26.07.2018

ESCUCHO A LA MAÑANA EL PROGRAMA QUE CONDUCE DANIEL TOGNETI,ME PARECE UN EXCELENTE ESPACIO,MI CRÍTICA ESPERO CONSTRUCTIVA ES QUE DANIEL,PERMANENTEMENTE INTERUUMPE A SUS COLUMNISTAS O COMPAÑEROS.
Radio contacts
https://www.instagram.com/radiodelplata