Stand with Ukraine. Save peace in the world!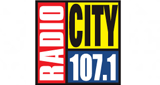 RadioCity
San Salvador de Jujuy, 107.1 MHz FM
Somos la radio de mayor audiencia en la Provincia de Jujuy. Nuestro objetivo es acompañar, entretener y compartir el día a día de todos los Jujeños. Nos esforzamos permanentemente por superarnos y mejorar nuestro trabajo. Contamos con los estudios más modernos del norte argentino y la tecnología es uno de nuestros aliados para llegar a nuestros oyentes con la mejor calidad de sonido.
RadioCity reviews
Pues le doy 1 punto porque no ponen lo que pido que no está en la programación, espero que para la próxima mejoren y pongan la canción que pido.

DESDE LEDESMA SALUDOS SIEMPRE ESCUCHO LA RADIO ES LA MEJOR SALUDOS GENTE SALUDOS MI QUERIDO JUJUY

saludos desde san pedro desde la casa de la final lap jaja no le gana a nadie ese xD exelente la musica chicos!!

Hola los estoy escuchando desde playas doradas, sierra grande ,Rio Negro...saludos a todos muy buena la radio

Christian Adolfo Aguilar Lenez

05.04.2020

hola los estamos escuchando de san Miguel de Tucuman..saludos para todos..muy buena la radioo

Franco Ferrufino

08.05.2019

Somos de mendoza estamos buscando unos parientes de mi abuela Alejandra Corrales. Desde hace años que no los vemos y nos gustaría saber como hacer para comunicarnos con ellos no tenemos ningún contacto, las hermanas de mi abuela se llaman Maria Corrales y Magdalena corrales que viven en Capital Federal

Cliver Castro Huaite

04.08.2018

Hola Radio City buen día... soy Cliver Castro... los escucho siempre desde Tarija Bolivia, sigan adelante...! Por favor... un saludo grandote para Ciudad de Nieva y para el jardín de niños de la escuela Cicarelli año 1986 , para nuestra señorita Elena, algunos nombres que recuerdo de mis compañecompañeritos entonces: Sergio, Fabricio, Patricia, Laura, etc... Y para Pato y Marcelo en San Cayetano ... gracias gracias...
Radio contacts
https://www.instagram.com/radiocityfm/
SMS 3884796464