Stand with Ukraine. Save peace in the world!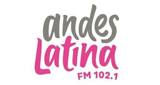 Andes Latina
Radio que difunde las 24 horas, brindando espacios de entretenimiento, una variedad de shows en vivo, música nacional, balada romántica, éxitos pop latinos, información de interés general y sucesos mundiales.
Andes Latina reviews
Damaris Olivas

21.02.2022

Hola muy bella la música siempre los escucho primera vez que escribo si pueden pasar el número de whasap por favor

Hola me gustaría saber el número de WhatsApp para poder mandar mensajes a la radio gracias

Lucia Mercedes Carrizo

24.02.2021

Es muy dificil sintonizarla se escucha mal con mucha interferencia

Jose Alejandro Quiroga Massana

23.10.2020

Muy buena la radio !!!

Zulema Barbazza

10.05.2020

No se puede escuchar on line

Maria Crivelli

18.03.2020

Muy bueno el programa de fitsalud

Mi nombre es Mariela

muy buena ... es mi compañia ,con su musica y comentarios, frases... los felicito....

Luis Fernando Sosa

04.04.2019

no puedo escucharla por Internet. no sale el sonido. hay algún problema con la página?

Edith Martinez

29.08.2018

Radio Andes Latina es muy bonito escucharla ya que no es solamente muy linda musica, síno las palabras entre poesías, reflexiones y el poder compartir recuerdos....y muuuucho másss..